Are hiking carriers worth it? Can't I use the regular soft baby carrier?
If you have checked the price of hiking carriers lately, I understand why you would ask this question. Hard-framed hiking carriers are expensive, heavy and bulky. And if you will only use it occasionally when hiking with the baby, is it worth it?
A hiking carrier is worth it because it's much more comfortable for both you and the baby. These carriers are designed specifically for hiking, so they can comfortably carry the weight of a toddler for an extended period without making your chest hurt. It will be even more worth it if you are always on the go and enjoy outdoor activities with the kids.
But like everything else, hard-framed baby carriers have their pros and cons that compare with the soft baby carrier.
But first…
What is a Hiking Baby Carrier?
Hiking baby carriers are also known as frame or backpack carriers because of their design. They are modeled after a hiking backpack, except they put a seat suspended on a frame instead of compartments. They do still have pockets on the sides and back for storage and a sunshade for the baby.
Whether a hiking carrier is worth it depends on the child's weight and age, and the hiking conditions. When going for a short hike in cool temperature like most people do with infants, a soft baby carrier is the best. It's lightweight, easy to use and allows you to feel your baby's temperature.
But if you are going for a real long-distance hike with a child over six months old, a hiking carrier will be worth it. The weight distribution around your hips makes the walk bearable, plus neither you nor the baby will overheat when hiking.
Read: Types of Hiking and How to Choose the Best for Your Kids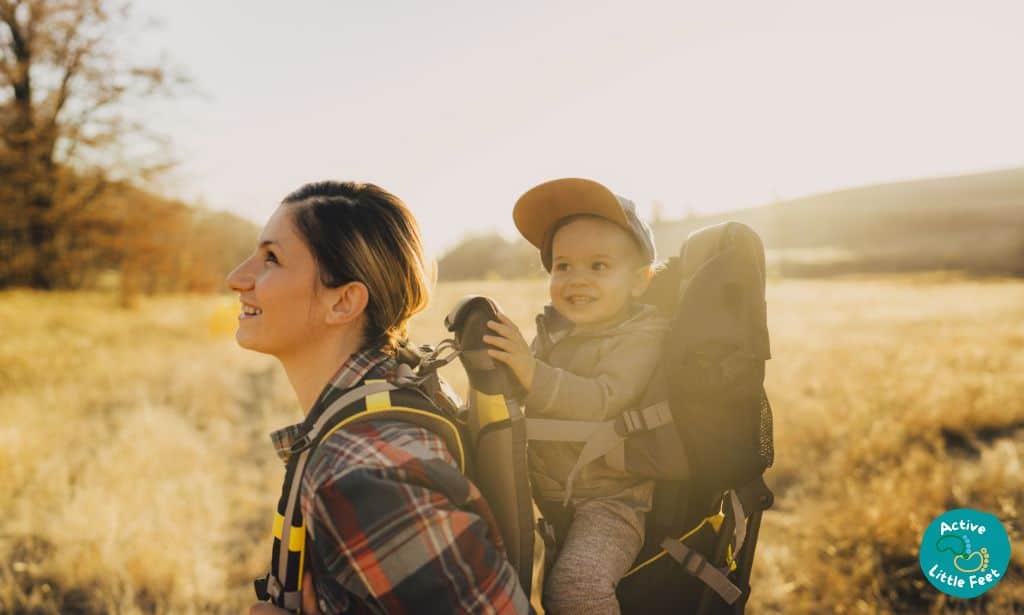 What are the Benefits of Hiking Carriers?
Holds the baby up high so they can also experience the view.
The baby sits a bit away from your body, allowing airflow.
Typically has more storage or pockets for your other hiking supplies.
Can be used as a baby seat while on the ground, thanks to the frame.
Comes with sun and rain protection.
Designed with ideal weight distribution to your hips, instead of your shoulders and chest.
They have front and back carrying options, depending on your child's age. As kids get older and heavier, carrying them on your back will be more comfortable for both of you.
What are Some Cons of a Hiking Carrier?
It's only useful from the age of six months.
It's heavier and bulkier.
Considerably more expensive than soft carriers.
The space between the wearer and the baby can make you feel off balance.
Takes up ample room when not in use.
Can I use a Normal Baby Carrier for Hiking?
You can carry your child in a normal baby carrier when hiking. A regular carrier is the best option if your baby is below six months or small in size and weight because it supports their head and spine. This type of carrier also ensures your baby stays close to your body, so it's easy to feel their temperature.
Soft structured carriers (SSC), or what we call regular baby carriers, feature a soft cloth panel to hold the baby against your body, padded shoulder straps and a padded waist belt. They are inexpensive, light and easy to use even when alone; plus, every new parent already has one.
Most short ladies prefer to use an SSC for hiking because it's so comfortable, light and doesn't throw off your balance. The weight of a hiking carrier can weigh down on your shoulders and cause pain for some people.
Read: How to Navigate Hiking with a Stroller and Carrier
Unfortunately, regular carriers have quite a number of cons when it comes to hiking including;
Less airflow and generation of heat.
No sun and rain protection in most of them.
Limited storage space for your other hiking items.
The baby does not experience the view as well.
Does not work for bigger and heavier toddlers due to weight limit and improper distribution of weight.
Again, a regular baby carrier is okay to use on a hike if the baby is small, the weather is cool, and the hiking distance is short. Otherwise, this type of carrier does not provide the necessary support and comfort you and the baby need to hike easily.
How Long Can You Use a Hiking Baby Carrier?
In terms of age, you can continue to wear your baby as long as they are comfortable. There are no developmental reasons to stop carrying a child in a carrier. However, their size and weight will make it impossible for you to continue using the carrier.
While most hiking carriers are designed to handle kids from 6 months to age four or 40lbs, most parents stop way before then. The child will want to be independent before they are even three years old, or they will be too heavy to carry at that point.
What about the time limit?
Dr. Danelle Fisher, M.D. chair of pediatrics at Providence Saint John's Health Center recommends limiting it to an hour at a time. According to her, this is not a position a child should be in for several hours. Give your baby a break every hour, even if it's just for ten minutes, so their hips and knees can move around and avoid being overexerted.
I also recommend taking turns carrying the child, especially heavy ones. While the hiking carrier feels comfortable, the child's weight still overexerts your muscles at the hips, waist and shoulders. Taking turns will ensure the other person gets some rest.
What are Some Hiking Carrier Safety Tips?
A hiking carrier can affect your balance, so watch your step when hiking. If possible, carry the baby on your back instead of front because it's easier to walk and balance yourself that way. It may also help to have trekking poles to support yourself.
Secondly, be mindful when turning corners, going through doors and passing trees. A hiking carrier sits high on your back, so the child's head is almost always above yours. Ensure you don't hit them on doors or scratch their faces on branches.
Lastly, do not bend down when carrying a child in a hiking carrier. If you must pick something from the ground, squat down at your knees so the carrier is still upright.