The weekend is here, so the last thing you need is your kids spending hours on tablets or TV. However, the common myth is that fun kids' activities must cost money, which is discouraging. But do you know there's a lot you can do for free?
Popular activities that cost zero dollars include cycling, hiking, nature photography, picnics, gardening, and backyard camping. Alternatively, you can opt for a wide range of indoor DIY activities that require minimal effort and no money. The list is endless!
Here is a detailed list of ideas you can start with this weekend.
Free Outdoor Activities to do with Your Kids
1. Go Cycling Around the Neighborhood
Explore the neighborhood by going on bike rides with your kids. After all, cycling is a great cardio exercise, and according to research by All Kids Bike, cycling reduces obesity by 42%.
Another option is to tell your kids to invite their friends so they ride bikes together around the neighborhood. However, ensure your kids wear protective gear before they start cycling around.
2. Enjoy a Family Picnic Outdoors
A family picnic is a fun activity that works effortlessly at the park, in your backyard, or by a lake, stream, or river. Furthermore, picnics are a great way to bond with your kids because you can play together, catch up and plan for the week ahead.
The preparations are simple. Fill your picnic basket with sandwiches, snacks, beverages, and board games. Also, remember to carry a blanket that fits everybody so you have somewhere comfy to sit.
3. Play Dodgeball with Water Balloons
Water balloon games are a great way to have messy fun with your kids over the weekend. On top of that, this article explains the benefits of water play on your child's emotional development.
All you need for this activity is balloons and water. Mix the water with food color or paint to make it more fun. Divide yourselves into different colored teams, and let the fun begin. The goal for each team is to put as much of their color on their competitor.
4. Nature Photography
Do your kids love nature? Photography is a fun outdoor activity that's free. Moreover, you don't need a professional camera. Instead, you can use your phone or tablet with clear photo quality. Nature photography is an excellent activity to help your kids appreciate the outdoors.
5. Go Camping in the Backyard
If your kids are comfortable in nature, they will enjoy camping in the backyard. For this fun family activity, you need a tent. If you do not have one, you can improvise with old blankets, duvets, bedsheets, cushions, sturdy sticks, and an old tarp for a roof.
You can set up a bonfire area to roast some marshmallows and get flashlights for storytime. The best part is at home camping happens outdoors or indoors, so you can move the activity inside if the kids get uncomfortable.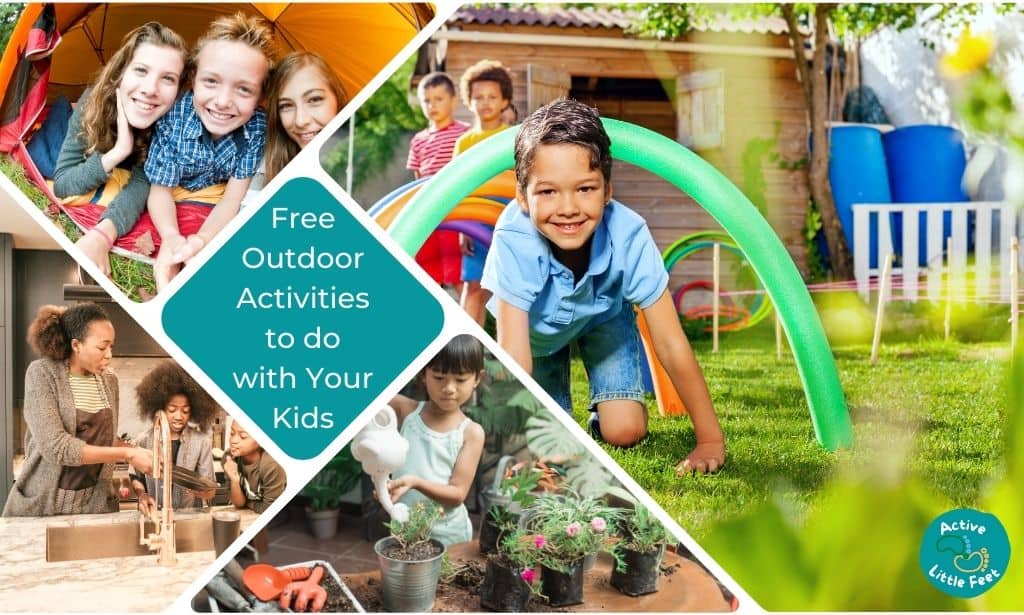 6. Create an Outdoor Obstacle Course
Obstacle courses are a fun activity for some friendly family competition. This activity has endless possibilities, as you can change the course for every round. The options include creating an obstacle course using hockey sticks, camping chairs, hula hoops, extension cords or ropes, small step stools, or large Lego blocks. In most cases, you do not have to buy anything new for this activity, and like camping, you can enjoy this exciting activity with your kids outdoors or indoors.
7. Enjoy Gardening and Planting Trees
Do you have a home garden? Teaching your kids how to plant and tend a garden can be fun. Kids also enjoy seeing the results of their work and eating their harvest, so having something to look forward to is encouraging. Better Health also states that gardening teaches responsibility, self-confidence, and understanding.
Suppose you have some ducks and chickens, the better, as they can learn how to harvest eggs and feed the animals. Give your kids their planter and some vegetable seeds to get them started with this activity. Vegetables grow faster, meaning they will enjoy the fruits of their labor soon enough.
Read our article on what a sensory garden is and why you should get one for ideas on what to have in your garden.
8. Become Scientists for the Day
Science experiments can be messy, so it is best to set up outside. However, these activities are a great way to encourage a love for learning in your kids because they are fun and easy.
From kitchen chemistry to noisy fun and making mud bricks, science experiments will keep your kids excited and engaged. Here are some experiments you can attempt with things you have at home.
Creating mud bricks
Try getting an egg in a bottle
Use bottles to make music
Disperse glitter with dish soap
Grow gummy bears in different water solutions
9. Go Bug Hunting
Something about bugs always fascinates kids. If your kids enjoy seeing and collecting different insects, collecting bugs will be exciting. You can walk at the park, in the woods, or around the neighborhood, searching for critters.
You only need a list of safe insects to collect and a glass jar for keeping the collected bugs. In fact, bug hunting is an ideal hiking game if your family enjoys regular hikes. You can also check out our hiking games article for additional hiking game ideas.
10. Go to your Local Park or Playground
Do not stress yourself by creating DIY activities for your kids. Instead, let your kids play freely at your nearest park or playground. Take your dog with you so they can play fetch or carry a jump rope or some food to feed the ducks or pigeons at the park. If you have explored the parks in your area, try going to the nearest town to meet new people and enjoy other activities.
11. Collect Shells for Fun DIY Projects
Going to the beach is fun, but so is collecting seashells. Shells come in different sizes and colors. Some are big enough to be used as home décor, and others can be used to make crafts like mermaid necklaces, crowns, and shell people. Before going out, you can search for a simple and fun craft idea. If the kids are excited about the project, they will be excited about the beach activity.
Free Indoor Activities to do with Your Kids
Going outdoors is not always an option. So, after finishing weekend chores, it is only fair that you indulge in some family fun. This list of free indoor activities will give you some ideas on what to do.
1. Form a Music Band
Playing and listening to music is fun at any age. Moreover, you do not need professional musical instruments for this activity. So grab pots and pans, bottles and jars, and create your family band. Create a cool band name and get to rocking.
2. Have a Dance Party
A dance party is a great way to keep your kids physically active indoors. If you do not have free space, move your furniture to one side of the room to create a dance floor. Then, create a playlist with your kids' favorite songs and start the party.
3. DIY Bowling
Do you have some empty plastic bottles or containers in the house? Instead of throwing them in the trash, make bowling pins. Arrange the plastic bottles in the hallway and grab a ball of your choice.
You can split into teams and compete to make things more exciting or let the toddlers have at it for a while. Since the bowling pins and balls are lightweight, it is entirely safe for the kids to play unsupervised.
4. Create Homemade Puzzles
Homemade puzzles are an excellent activity for toddlers and preschoolers. You can use cardboard, toys, manila paper, or cereal boxes to make simple, educational, and fun puzzles for your tots. In fact, we have an insightful article that will help you choose suitable DIY puzzles for the little ones.
The simplest puzzles to make are matching puzzles, cereal box puzzles, and name and letter puzzles. First, draw the letters or shapes on paper or cardboard and cut them out. Next, you can color the shapes and letters or use different textured paper for the puzzles. The next step is to let your child match the shapes and letters.
For cereal box puzzles, cut the box into different shapes and let your child put it back together. Cereal boxes already have fun pictures, so you do not have to draw anything. You can make as many as you want, depending on how many boxes you have. This quiet fun activity will keep your child busy for an extended period.
5. Have a Fashion Show
A fashion show is a fancy name for playing dress up. You can dress in fancy clothes and use the hallway as your runway. Even better, make this activity more fun by dressing up as different characters and taking turns being the photographer.
6. Have a Puppet Show or Stage a Play
These activities might seem time-consuming, but the kids will enjoy the creative process. To make the process easier, you can assign tasks. The best storyteller can come up with the script. Another family member will make the cardboard theater and use the existing dolls as characters.
Another option is to act out your child's favorite storybook. To encourage more creativity, create the characters in the story using brown bags or old socks. Once everything is set up, it is time to put on a show. Remember to make memories by taking a video of the whole performance.
7. Have a Karaoke Competition
Karaoke is a fun indoor activity for both adults and kids, and it encourages bonding. First, create a stage in your living room and look for the lyrics of your favorite tunes online. Then, after setting up everything, take turns singing along to your favorite songs. Finally, use a hairbrush or a remote as a microphone if you do not have one.
8. Make a Family History Trivia Game
A family history trivia game is best enjoyed with extended family members, so invite uncles, aunties, and cousins over for some weekend fun. You'll go through family documents and photos and collaborate with other family members to create fun categories for the trivia. Next, create question-and-answer tags and develop the game's rules. Once you finish, it is time for some family fun.
9. Cook and Bake Together
Kitchen fun is always a great indoor activity for kids. Moreover, cooking is also a great educational activity as children can test their measurement and conversion knowledge. Try a new recipe or do something simple like making popsicles or smoothies.
10. Have a Family Movie Night
Movie night is a great family activity to finish the weekend on a relaxed note. Use a projector to create a theater experience. Prepare some popcorn and other movie night snacks, and pick a movie everyone will enjoy watching. Also, your living room television works fine if you don't have a projector.
11. Have a Readathon
Readathons are fun for older kids who enjoy reading. The challenge can be how many books or chapters each person can complete in a day. Here's a tip: borrow extra books from your local library for the readathon instead of buying multiple books. Additionally, read this article for tips to make this indoor activity fun for hours.
12. Make a Moving Story
Making a movie story does not have to be complicated. For example, keep it simple by drawing stick men. You will need a drawing pad and a pencil for this activity. Draw your stickman character at the corner of each page. The characters must be different on every page, so they move as you flip the pages.
13. Make Homemade Wind Chimes
Making wind chimes is a fun crafting activity that will help you create a unique display in your home. You can do this with various materials, including old keys, CDs, beads, or your child's xylophone. You will also need a rope and decorations of your choice.
14. Play Balloon Ping Pong
Balloon ping-pong is another fun, active game your kids can play indoors. You will need some balloons and table-tennis bats. If you do not have table-tennis bats, make them using paper plates and sticks. Your kids will hit a balloon, so the paper plate bats should suffice. Lastly, make space in your hallway or any other free area and begin playing.
There you have it! You can do a lot with the kids without worrying about the price tag. Alternatively, if you're thinking of hitting the beach for the weekend, this article guides you on how to make the beach fun for kids of all ages.