Choosing short picture books for your toddler is straightforward, but what about when they grow older? What if you have multiple children in different age groups and with varying tastes in literature? Here's where things become complicated. Fortunately, you have several options to help you find age-appropriate books.
You choose age-appropriate books by identifying your child's reading level, researching various books, and catering to your child's interests. To succeed, your child should be at the center of your selection process, and you should prioritize interactive books.
This article will delve into three vital tips and highlight how to choose a book for each age group.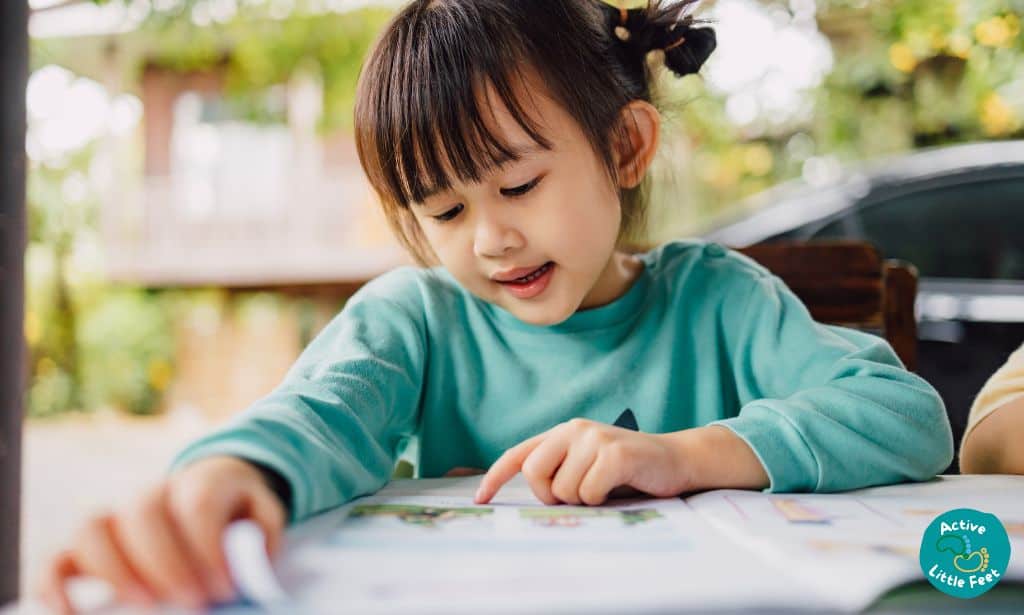 1. Identify Your Child's Reading Level
The best way to encourage your child to be a reader is to choose books that match their reading ability. Complex texts lead to frustration and discouragement, whereas easy books become boring, causing your child to lose interest.
Knowing your child's reading level is crucial in cultivating their lifelong love of reading. Our article gives an age-by-age guide on when your kids should start reading. But how else can you determine your child's reading level?
The most common method is using standardized assessment tests. Standardized assessment tests are usually done by teachers in school when your child joins the first or second grade. Some of the assessment tools they will use include;
Lexile Framework for Reading
The Lexile framework is the most used online tool to measure children's reading ability. The system relies not on age and grade levels but on your child's assessment results. Using the Lexile scale, the system will measure the difficulty of words and sentences, the complexity of ideas, and your child's comprehension level.
The result on the Lexile scale is a number with an L after it. For example, 500L. The higher the Lexile number, the higher your child's reading level. The Lexile scale can range from 0L- 2000L. After measuring your child's ability, the system will match books and other reading materials according to their score.
Regardless of their score, children are encouraged to read books 50L above or 100L below their Lexile level. For example, if your child scored 300L, they should read books from 200L to 350L on the scale.
Guided Reading Levels (GRL)
The Guided Reading Level assessment system requires your child to sit with a teacher and read a book considered standard for their grade level. The teacher will take notes and ask questions to measure your child's reading ability as they read. The GRL books are rated A-Z. A is the easiest level, while Z is the hardest.
Developmental Reading Assessment (DRA)
Developmental Reading Assessment (DRA) is similar to GRL. Your child will sit individually with a reading specialist or teacher and read a book. The grading system for DRAs starts with the letter A and then proceeds to a numerical grading scale. A represents the easiest level, 1-3 represents the kindergarten level, and 80 represents the eight grade level.
During the assessment, the teacher or reading specialist will use the following factors to determine their reading level;
Phonemic awareness
Reading comprehension
Fluency
Once their reading level is determined, the teacher will recommend the appropriate books to buy for your child. Here is a general chart for your reference when searching for the reading level of any children's book.
How to Determine Your Child's Reading Level at Home
These are informal ways to measure your child's reading level if you do not have access to the above methods.
The Five-Finger Rule
The five-finger rule is a simple method to determine your child's reading level at home. The first step is to pick any children's book your child is interested in. Next, flip to any page and ask your child to start reading.
The book is too advanced if they need help reading more than five words on that page. However, you can turn to another page and try again to be sure. If they are still having trouble reading more than five words, it is a sign that they are at a lower reading level.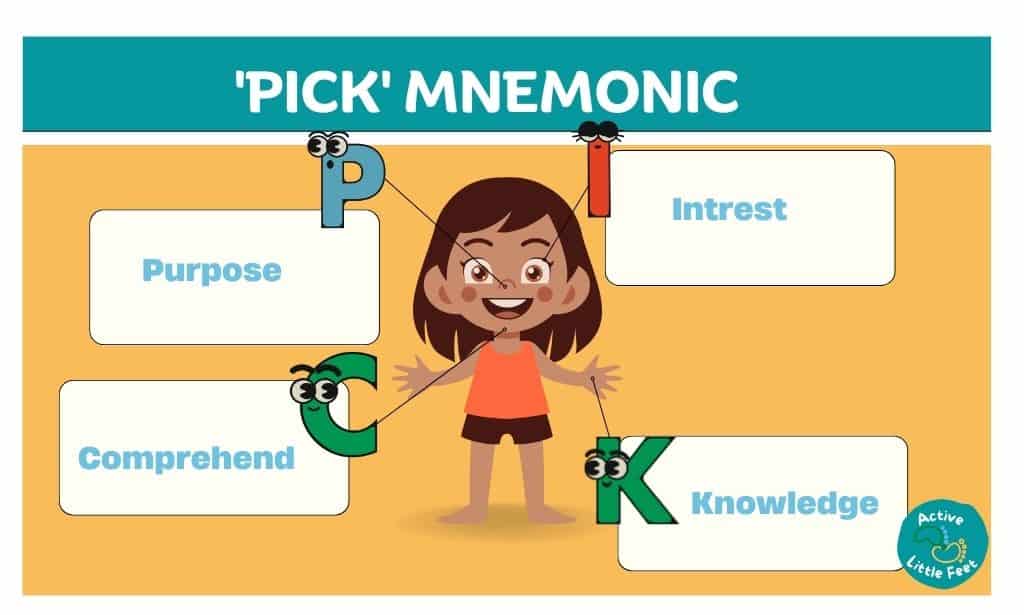 Check the Back Cover of their Books
Most children's books indicate the reading level on the back cover near the list price. It is usually shown as RL 3.2, meaning the book is perfect for children with the vocabulary of a third grader in their second month.
It is important to note that these indications are not final, but they can give you a rough estimate of your child's reading level. You'll calculate the average number using the various reading levels or decide which best describes your child's ability.
Remember, your child's reading level is a guide, not a rule. Reading easy books is fine but do not limit your child to their reading level if they show interest in reading a book beyond their level.
2. Use the 'PICK' Mnemonic
The PICK mnemonic is a method that helps your child choose the right book for themselves. The letters stand for;
Purpose: Why do they want to read a particular book?
Interest: Is your child interested in the book?
Comprehend: Can they understand what they are reading?
Knowledge: Does your child know the majority of the words in the book?
Teaching your child the PICK method helps them make the right literary choice. In addition, PICK encourages kids to become independent readers. After all, any book that fits the PICK criteria is engaging and educative.
3. Research About Various Books
The PICK method enables your child to choose their books. This means that you have to be wary of the content in the book, especially when picture books are no longer an option. It helps when you read the books to assess the content. But do you have the time?
You might love to read, but you're also a busy parent. That is why your first research method is asking your child's teacher. Teachers are usually aware of books with age-appropriate content for your child. After teachers, you can ask your local librarian or fellow parents about the best books to buy for your child.
Another option is to read book reviews online. Numerous resources on the web can help you make the right decision. Websites like Amazon, Common Sense Media, Goodreads, Plugged In, etc. review, rate, and give insight into the content in books, movies, TV shows, and other entertainment.
For example, Amazon will give you a detailed book description and recommend a grade level or age. The best thing about reading online reviews is that other parents also give their opinions. You might not trust Amazon's opinion, but several parent reviews will steer you in the right direction.
How to Choose Age-Appropriate Books for Toddlers
Babies and toddlers are more listeners than readers. They respond well to books with simple and rhyming words, but wordless books will also stimulate them visually and mentally. The best books to go for at this age are brightly colored picture books with simple texts and activity books. Check out this article to understand why your toddler will benefit from reading activity books.
How to Choose Age-Appropriate Books for Preschoolers and Kindergarteners
At this stage, children enjoy listening to more complex stories and reading books that provide various astonishments. For example, books that have characters that pop up or move. Books with effective word repetition that depict familiar objects and experiences are also a good option for kids this age. Think of popular nursery stories like Mother Goose.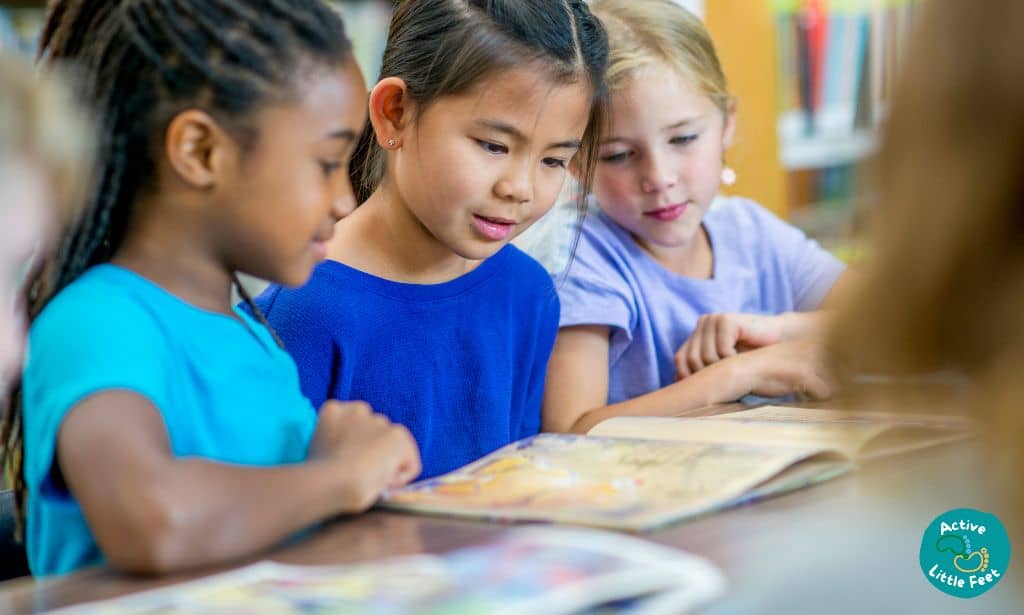 How to Choose Age-Appropriate Books for Early School Years (5-8years)
Most children learn how to read during the first grade and become independent readers by the third grade. At this point, storytime at home is also more interactive because you are reading with your child and not reading to them.
First graders will enjoy picture books with more complex storylines and character development. Non-fictional books about things they can relate to are also an excellent option to satisfy their curiosity. Easy readers are the best books to buy if your child reads independently.
The term' easy readers' is used by publishers to describe books with straightforward stories. These stories also use familiar vocabulary but also include some challenging words that independent readers can handle.
How to Choose Age-Appropriate Books for Older Children (9 years and above)
Most children this age can read fluently and independently. Besides their reading level, you must consider their personality and preferences when choosing a book. Are they interested in non-fiction or fiction? Historical or fantasy?
There are many genres of children's books that your child might enjoy. You can read our article on the types of children's books explained to learn more about the subject.
Consider that your child reads for pleasure like many adults, and their interests might change occasionally. It is essential to be wary of the content in the books, so do your due diligence and encourage your child to use the PICK method when choosing their next read.
The most important thing to remember when choosing age-appropriate books for your child is timelessness. Both children and adults enjoy books with themes and characters they can identify with regardless of age. In fact, this article will give you excellent tips that make reading fun for kids of all ages.