Perhaps, you have seen the pictures of containers filled with beans and colored rice on the internet and wondered what that was about. Or maybe, you looked in awe as kids in your child's preschool played with what looks like a mixture of cereals in a large container.
These are examples of sensory bins, and they are all the rage right about now.
In definition, a sensory bin is a container filled with materials and objects selected to stimulate a person's senses. They allow the child to interact and explore items in a limitless, open-ended way without a defined outcome or purpose.
What are the Benefits of a Sensory Bin?
Sensory bins provide a hands-on opportunity for kids to stimulate all their senses; visual, auditory, tactile, olfactory and gustation. Senses are how we experience and learn the world around us. The five senses track information to our brains and create our individual experiences as people.
Sensory bins therefore provide an opportunity to develop a child's cognitive, social-emotional, communicative and sensory skills. We have a detailed post on the benefits of sensory bins for children, but here are specific benefits of playing with sensory bins.
Developing fine motor skills. Activities like scooping, wringing, rolling dough and using tweezers to pick up stuff help develop a child's fine motor skills. This helps with daily activities like eating, writing, and driving.
Cognitive development. There is a lot to learn from a well-thought-out sensory bin. Kids can learn about numbers, letters, and objects and develop problem-solving skills.
Language development and social skills. Most of the time, kids explore sensory bins with others, and they communicate in the process. The back-and-forth chatter helps develop vocabulary and also teaches social skills like sharing, taking turns and cooperation.
Helps to calm down kids and reduce anxiety. The most significant advantage of sensory bins is their therapeutic and calming effect. The way all senses are captured calms the nervous system and help to regulate emotions and mood.
Improve attention span. Sensory bins are one of the few toy mediums that can capture a child's attention for a long period, regardless of their attention span. Once all their senses are caught, it's hard for the child to wander mentally or become restless. This improves their attention span and concentration with time.
Sensory processing. Finally, the bins help kids who struggle with sensory issues especially Autistic and ADHD kids. It becomes a safe space to explore their senses and calm their mind.
These benefits are the reason why so many preschools have adopted sensory bins. However, parents should also consider having them at home since kids spend a good amount of time at home also and for babies who have yet to join school.
What Do You Hide in a Sensory Bin?
Every sensory bin includes three components:
A large washable container
Bin filler
Sensory toys and tools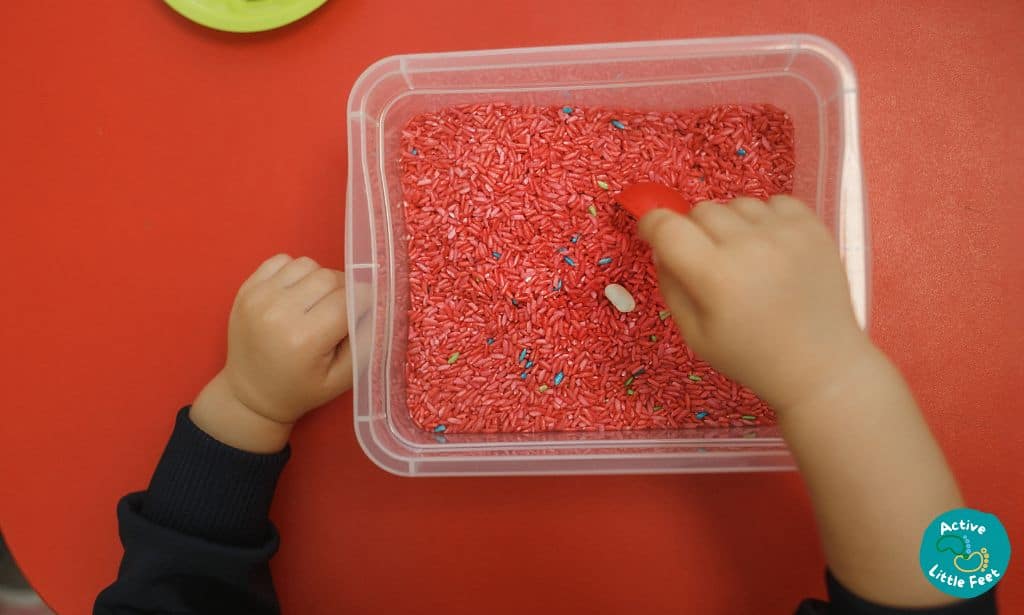 Sensory Bin Filler
Filler is any sensory substance you put in the container to half or three-quarters full. You can buy from a toy store or find something at home. Sensory bin fillers are classified into wet and dry.
Dry Sensory Bin Filler
Rice, beans, pasta
Unpopped popcorn
Cotton balls
Corn Meal
Shredded paper
Sand
Raffia/crinkle grass
Craft feathers
Packing peanuts
Gardening soil
Wet Sensory Bin Filler
Kinetic sand
Playdough
Water (soapy or colored)
Water beads
Shaving cream
Homemade snow made of cornstarch, baking soda and water.
Food colored Spaghetti
NB: Don't be afraid to add an element of smell if the stuff inside the bin don't have any. Adding a few drops of a calming fragrance like lavender will work on the sense of smell and also soothe the child's nervous system.
Sensory Toys and Tools
Plastic toys such as blocks, magnetic letters/numbers, play foods, animal figures.
Tweezers, tongs and spoons.
Cups and plates
Magnifying glass
Funnel
Cookie cutter and molds
Fake gems, plastic ice cubes, rhinestones
6 Simple Sensory Bin Ideas
1. Cereal Sensory Bin
Low-sugar cereal is among the first finger foods kids get to enjoy, and they make wonderful sensory bin filling for babies. O's cereal, for example, is easy to grab and mash between their hands, and they can also eat them in the process.
Fill the bin with a pack or two of these cereals, and then add a plastic bowl and a scoop so the child can play in different ways.
2. Water Sensory Bin
All babies love playing with water, which is why it's the perfect sensory bin filling. (Check out this post on water play as a sensory activity.) The feeling of water slipping through their tiny fingers, the splashing noise and the texture are all very stimulating. You can add color, fragrance, bubbles or soap to the water just to increase the stimulation. As for tools, throw in some cups, jugs, scoops and a funnel or water animals.
3. Ball Sensory Bin
A ball pit, in other words, is filled with balls of different sizes, textures and colors. This is a great sensory bin for kids who need less stimulation because of sensory disorders like autism.
4. Rice/ Grains Sensory Bin
Rice makes a great filler because it feels good to touch. You can also add different colors to it for the eyes or use a mixture of grains such as corn and beans.
You can then hide small animals and other toys inside for treasure hunting or add scoops and cups to play with.
5. Beach Sensory Bin
Danielle from Fun Learning for Kids has this amazing beach-inspired sensory bin made of sand on one side and water on the other. Shells separate the two, though the sand is in a box.
Go ahead and add sea animals in the water and some tools in the sand. Kids can play with both fillers and even make sand castles.
6. Water Beads Sensory Bin
Water beads or vase fillers come in different colors and sizes. Once you soak them in water overnight, they become slippery, fun playthings that kids can touch, scoop, pour and bounce.
Fill the container halfway with water beads and then add ocean animals, buckets, shovels and shells to recreate sea life. This is the best alternative if you want to avoid your kid playing with water.
Use Your Creativity
While designing a child's sensory bin, only your creativity can limit you. Fillers are everywhere including pot soil, sand, grains, soapy water and even slime. You can then throw in any toy or sensory-stimulating objects such as squeeze balls, play dough, bubble maker and so forth.
You must, however, consider the kid's age, as toddlers are more likely to put stuff in their mouths or fall inside the tub. Keep a close eye on the children while they are playing, and let the play be personal. The idea of a sensory bin is that the child decides how they want to play and the textures they want to explore. Forcing kids to touch something they don't want to touch will not work.