The truth is, toddlers and babies could care less about Halloween fun or other festivities. But if you are like me, I bet you can't wait to introduce your little one to this spooky season. Dress them up in Halloween costumes, decorate the house, do spooky things and make all kinds of interesting snacks and drinks. After all, isn't this what babies are for?
If Pinterest has left you confused about what to do this Halloween season, we have great ideas for you. These fun Halloween activities are simple, designed for babies and use everyday items, so you don't need to go shopping.
But most of all, they are edible-safe and nothing too scary because, again, toddlers don't know what Halloween means.
1. Dress Up and Take Pictures
The whole idea of Halloween season is to dress up in cute costumes and eat candy. This is more fun when you have a baby because their costumes are super cute, and you can take the most adorable pictures. Over the years, we have had a blast coming up with new Halloween costume ideas for our kids. We have done Spiderman, Superman, a ghost and even a pumpkin, which was my favorite. I can't wait to embarrass my children with the pictures we have taken on their sweet sixteen.
And if you want to take it up a notch, come up with family Halloween themes where you all dress up in the same costume and take loads of pictures.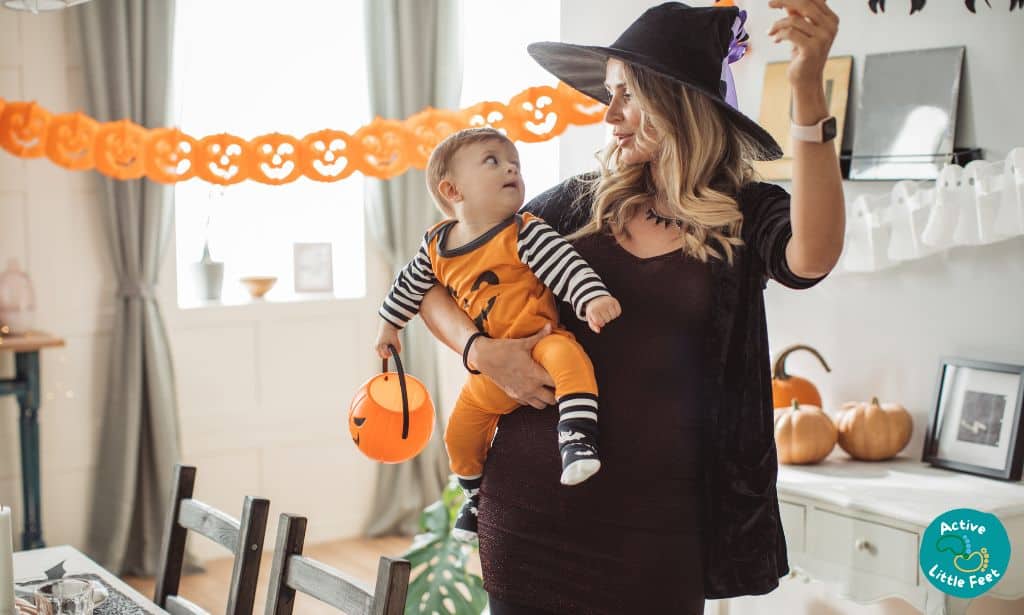 2. Have a Party
Since toddlers are not old enough to trick or treat, we sometimes bring the people to them. Invite a couple of your friends and relatives who have young kids and have a spooky party. Seeing the different Halloween costumes from our party guests (even when we pretend it's not a competition) and having the kids together is fantastic fun.
We make art together using black paper or black paint, read stories, make scary pastries for everyone and even have time to dance, do competitions and some DIY Halloween games. And did I say we also share candy? Again, the videos we have on these parties will be a gold mine one day, and I live for these moments.
3. Do Halloween Art
These activities are part of what we do together during a Halloween party. However, you can also do them with your child because they are toddler friendly.
The first one is to paint tiny pumpkins instead of carving them. Get some edible paint and show your kids how to paint eyes, nose and mouth on the pumpkin to make a jack-o-lantern. This is a great sensory activity, and the child will have a blast going wild with the paint.
We also love to face-paint our little ones on Halloween. But on this day, we do spiders, skeletons and other scary stuff instead of stars. My daughter cracks up every time she looks at her face, plus I also let her paint my face.
My favorite- making hand prints. Kids love playing with paint, so I apply black edible paint on their little hands and help them make hand prints on paper. We then add googly eyes where the palm of the hand is, and it becomes a spider.
If your toddler is over two years, try decorating pastries also. We put a spooky spin on cupcakes by adding chocolate buttons to become eyes or frosting the pastry like a bandage. The fact that we then get to eat them is a bonus.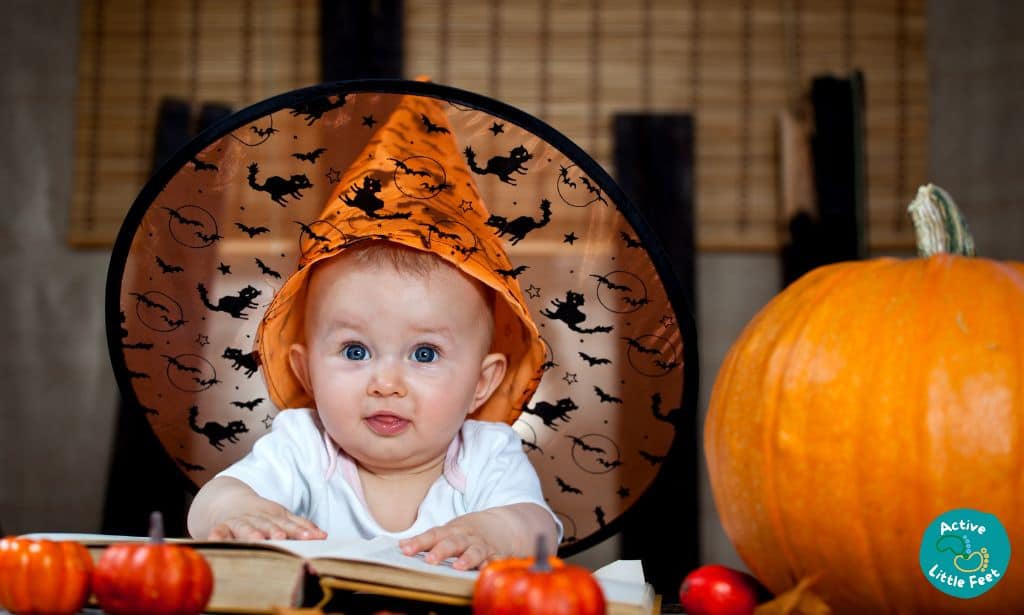 4. Visit the Library
Our local library often has Halloween-themed events, treats, and crafts for the kids. Check out if yours does and attend the story time with your kid. Besides supporting the local library and having fun with other locals, reading picture books for your little one inspires a love for reading and helps their literacy skills.
Kids over two years also understand the spooky stories, and it's fun seeing their reactions. Some favorite Halloween picture books I recommend include Meg and Mog by Helen Nicholl, I Love Halloween by Giles Andreae and Gustavo, and the Shy Ghost by Flavia Z. Drago.
5. Do Shadow Puppets
This fun activity was inspired by a Halloween movie I watched three years ago, and it was pretty fun recreating. We pitched a tent in the middle of our living room to spend the evening there telling spooky stories.
While listening to Dad and our six-year-old make up stories was fun, the best part for the baby was making shadow puppets on the tent wall using our hands. You simply turn off the lights, bring on the flashlight and use your fingers and hands to make shadows. The little one enjoyed watching the shadows while the older kids have a blast trying new puppets.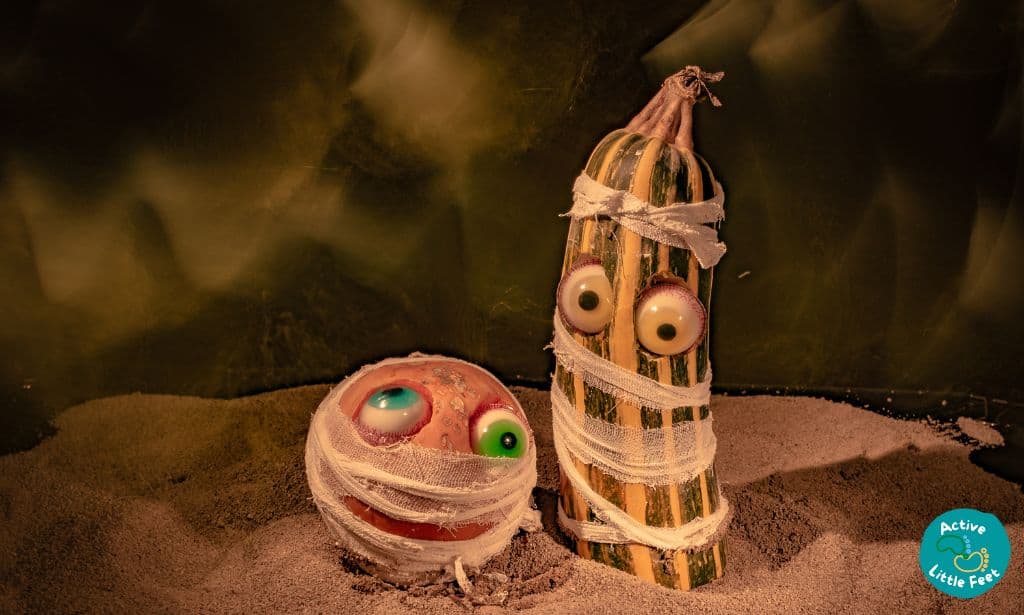 6. Play the Mummy
We did this last Halloween, and the reactions we got were interesting, to say the least. While my son and his friends enjoyed wrapping me and another lady in rolls of tissue paper, my daughter cried her eyes out when I was fully wrapped.
Either way, it is a game worth trying on Halloween because playing with toilet paper is fun, and the end result is spooky. When the kids are done 'mummifying' their parents, turn the tables around and do them too. This is also a great way to start making a haunted house using tissue paper and easy Halloween crafts, especially if you have big kids.
7. Attend Halloween Festivals
With some research, you will find tons of Halloween events in your locality or nearby. Our local zoo, for instance, allows tricks or treats as families gather to enjoy the animals. The place is usually full of Halloween decorations and toddler Halloween crafts and there are endless Halloween activity ideas for kids.
You can also check out your local farm or market to get your own pumpkin, paint and experience interactive story trails, spooky shows for babies and magical light walks. Dress up the child in a cool costume and take the camera with you because there will be many photo shoot opportunities.
8. Coloring Halloween Pictures
Coloring pictures is an old favorite activity for toddlers. On Halloween, print Halloween-themed pictures on a big sheet of paper or coloring books and hand the kid some coloring pencils. Depending on the kid's age, you can help show them how to color and what colors to put where. Kids of all ages will enjoy the coloring process just as much as the end result.
9. Treasure Hunting
No, it's not the treasure-hunting kind you are thinking of, though that could be possible too when the child is bigger. What I'm talking about here is sensory treasure hunting in sensory bins full of colored rice or slime.
Half fill a wide tub with the sensory materials (rice or green slime for spook effect) and throw some treasures inside there. You can hide shells, toy cars, small balls and even spooky things like plastic spiders, teeth or ears for the fun of it.
What to Hide in a Halloween Sensory Bin
Let the child dig in there with their hands and find what they can. It will also be super helpful if you cheer for them whenever they find a treasure.
10. Eat Halloween Ice-cream
This last activity will be as much fun for the kids as it is for adults. It can be the final thing you do at the end of the day to close the Halloween festivities. But it's not just plain old ice cream- it must be Halloween-themed.
Serve a scoop or two in a bowl for everyone, and then decorate the scoop with chocolate to make eyes, nose and mouth. You can also throw in chocolate chips in the bowl to add a spooky effect.
Looking for more fun activities to do with your little ones at home? Check out the articles below.